Wasn't in the frame of mind for an outfit post today, despite really liking my outfit. I think I'll save it for a (non)rainy day and shoot it when I next wear it out instead. This week has been a bit of a whirlwind to be honest, I'd planned to spend it sorting out my dissertation, sorting through my belongings and writing some cover letters, yet I haven't stopped since Sunday evening!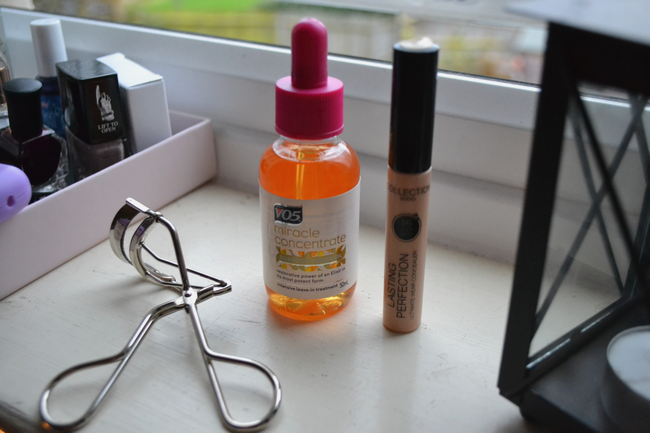 A few of you already know from following me and my forever excited train of thought on Twitter, but yesterday I finally managed to get myself another internship. I'm going to be interning at Debenhams' Press Office for a few weeks in March which is really exciting! I graduate in May (well, I finish my studies, and graduate properly in November) and so far, I've had experience in both fashion journo and beauty PR, so I'm excited to add to that and see where my interests really lie. Got another internship interview type thing coming up as well, which I'll talk about if it goes well!
It's feedback week at Uni this week, which evidently means going in to Uni for 5 minutes a day, if that. Got my first module grade back on Tuesday, and I received an A1, which is 100 marks. One hundred(!!!) Out of one hundred. I've never been more shocked or proud in my life, so promptly skipped out to town, and picked up some beauty essentials as recommended by the beauty blogosphere: so far, I can easily advocate that both the VO5 Miracle Concentrate Elixir and Collection 2000 Lasting Perfection concealer are worth their pennies and the traipse around a sullen Southampton! Included my new Shu Uemura eyelash curlers in the photo as well: would also recommend those! (Also, you can still get 15% off orders at
Beau XOXO
with my code 'DAISYBUTTER', if you're after one of the
glitter bows
that I'm wearing above.)
Other than that, I'll leave you with some miscellaneous photos from my day so far: I'm off to watch this week's Glee episode, finish my Graze box, and find something new and red to wear on Monday (Chinese New Year)!
♥
PS.

Voting for the longlisted Marie Claire Blog Awards closes tomorrow, so I'll finally be shutting up about that ;) Wish me luck?