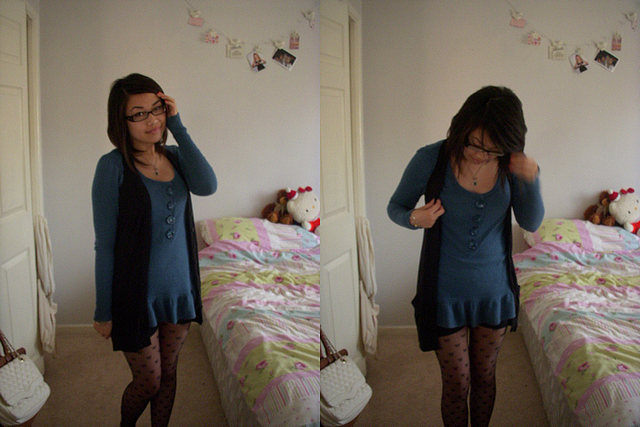 Dress, River Island; Waistcoat, New Look; Shorts, Hong Kong; Tights, Topshop.


Today was my first proper day off from work and other commitments in about three weeks, and I have definitely been indulging. I popped to town with my friend Sharon to get a few things, nothing interesting, although we have a traditional sweet shop in town now! I also bought some new tights as I've laddered all of my current ones again. Grr!
Not only did I stock up on pretty tights in town, I finally have an outfit post to share with you! I bought this knitted dress about two or three years ago from River Island, back when their prices weren't so sky high! I think this was just under £20? It just goes to show how I've not grown at all over the past few years! Paired with cycling shorts and my bow print tights from Topshop. Although I wore my moccasins with this outfit, I think it would look sweet with some socks and military boots too, I can just never be bothered to shoe shop.
Hope everyone's been good! Thank you so much for the follows and sweet comments, I think I'm on top of all the replies again, so do check back to see. :) Normal blogging shall resume from today!