Dress, Miss Selfridge; Cardigan, Bess Clothing; Tights, Topshop; Necklace, Urban Outfitters.
I'm not sure why on one of the rare hot/warm days left in the summer, I decide to pick an almost entirely black outfit. And then a cardigan on top of that. Give me the autumn pleaseeee, preferably with minimal rain and maximum crunchy leaves! This is my favourite dress at the moment: panelled black and from Miss Selfridge, and is my favourite length! I paired it with a floral insert cardigan from Bess Clothing in Hong Kong, and a pair of patterned tights. Not sure how well floral and bows go but I like it. :)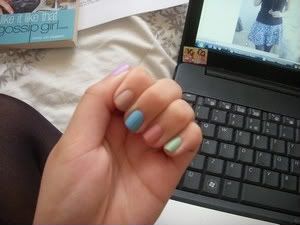 Thought I'd also display my colourful matte nails ;) I'm really into my matte nails at the moment, and as Sarah (I think!) said, they chip a lot less than glossy nails, which is good because I'm the biggest klutz ever, and always chip my nails. I'm wearing (L-R):
Topshop Matte Nail Varnish
Barry M NP in Berry 308
Butter London Nail Lacquer in Yummy Mummy
Barry M NP in Blueberry 306
Barry M NP in Mulberry Pink
Topshop in Gone Fishing
Finally,
I've been published
over on Style Sample Magazine! I wrote an article about internships and helping to get into the industry. I'm hoping to contribute a lot more to other blogs, publications, etc. soon, so watch this space. I am absolutely loving
Style Sample
, they have some great reads, blogging tips, How-To's and more, so stop by and have a read if you have some time. I particularly liked this post about
how to photograph
certain objects!